03. Juni / Maps
beim Joggen am Strand von Carrabelle in Florida am Golf von Mexico
am fruehen Morgen folgen uns Delphine





unterwegs mit unseren Camper auf den Dreamroads in Amerika
Ulla und Gino aus Terrasini auf Sizilien
Sizilien Ferienwohnung Terrasini Weinheim Rezepte Rundreisen Sizilien Photos Sicilia Casa Vacanze Terrasini Accommodation in Sicily american Campgrounds Rv Resorts Reisefuehrer sicilian travel tips 4/12/2008
wie was wo in Amerika, Amerikareise 2007/06, Carrabelle, Carrabelle Palms RV Park, Delphine, Erlebnisse, Florida, Golf von Mexico, im Wohnmobil reisen, Rundreisen, Straende, Tiere

nachdem wir das kleinste Postamt der USA gesehen haben, sind wir jetzt auch an die kleinsten Polizeistazion der Welt. ... na ob das mal stimmt?
im Wohnmobil durch Amerika, Camperurlaub
in Carrabelle in Florida an der vergessenen Kueste
Carrabelle,
Florida
- World's Smallest Police Station
Back when the town of Carrabelle (current pop. about 1200) had no true police station, the police parked their cruiser beside a telephone booth near the main intersection, where they could pretty much see everything going on. For many years, calls for the police came in to the telephone in the booth.
Better radios and cell phone service put an end to the need for the phone booth, but one of the more recent of the telephone booths used is still in the center of town, across from the Chamber of Commerce. The original phone booth is on display at City Hall just a couple short blocks away.
Address:
US Hwy 98, Carrabelle, FL [
Show Map
]
Directions: On north side of US Hwy 98 just west of County Road 67. The original is in City Hall at 106 SE Avenue B.
That's the number for a blue phone booth on the main drag that is the world's smallest police station. The phone booth is shaded by a shiny berry tree, and there's a park bench in front where policemen can keep an eye on the town of Carrabelle (population 1,800).
The phone booth was installed in 1963 to keep policemen out of the rain. "They used to have a phone on the wall across the street," says Police Chief Jesse Smith. "But every time it rained, the man who answered it would get wet."
At the time, the single police officer walked a beat and didn't have a patrol car, Smith says. The department has grown to three officers since then, but little else has changed.
"I love it here," says Smith, who's worked for the station for 22 years. "It's just like any other place. You have the same things, you just don't have as much. Some days you'll come and you won't get a call all day, other days they'll keep you running."
When he's not patrolling, Smith parks by the phone booth. "We just sit here because there's a little shade and it's right in the middle of town. We can see everything that's going on. And if people need to get a hold of us they call it and we answer the phone."
Smith said visitors come from "all over the world" to see his police station. "They want us to stand around and take pictures with them and we do it." (The town now has another one-room police office, but it doesn't attract visitors.)
In 1991, Smith was a guest on the Tonight Show with Johnny Carson. "I enjoyed the trip, it was real nice. They carried us all over the place in a limo. Johnny just asked about the police station."
Smith has also been featured in a commercial for the police program "In the Heat of the Night." But Carrabelle doesn't get the program, and "I ain't never seen it," Smith said.
Be sure to wave the next time you drive through Carrabelle. Or better yet, stop and chat a while.
Sizilien Ferienwohnung Terrasini Weinheim Rezepte Rundreisen Sizilien Photos Sicilia Casa Vacanze Terrasini Accommodation in Sicily american Campgrounds Rv Resorts Reisefuehrer sicilian travel tips 4/10/2008
wie was wo in Amerika, Amerikareise 2007/05, Carrabelle, Erlebnisse, Florida, kleinste Polizeistation der Welt, reisen, Rundreisen

Carrabelle die vergessene Kueste
wir haben unseren Platz im Carravelle Palms RV Park direkt am Meer gefunden. Schoen und sauber, angenehm zum rasten, weit entfernt vom Trubel
im Wohnmobil durch Amerika, Camperurlaub
Carrabelle is located on St. James Island, although you might never realize it unless you look closely at a map of the area. The "Isle of St. James" is surrounded by bays, rivers, and an offshore barrier island known as Dog Island. The history of Dog Island and Carrabelle includes a wonderful mix of Indians, shipping, bootlegging, logging and war. Rio Carrabella was the name of the town recognized by the first post office in this area and was said to mean "beautiful river". Early settlers in the area, both Indians and early Europeans, hunted the bountiful game for food and furs, which were then shipped out of St. Marks. Carrabelle's boom time came after the Civil War when lumber and naval stores were the most important commodities. In 1875 the first lumber mill was established- cutting pine and cypress from the river and in the swamps; shipping it to the north. Ships, mainly schooners, would come through the pass and drop anchor behind Dog Island in Ballast Cove, so named because the ships would drop their ballast before sailing into Carrabelle to pick up their cargo. You may to this day find ballast rock in the cove.
By 1893 there were many more lumber and saw mills along the Carrabelle River and the downtown area was established around Coombs Mill, close to the mouth of the river. The town was incorporated in May 1893 and during this time, the area flourished- docks were stacked high with lumber and turpentine. There was a railroad station from which trains carried salted down mullet and other goods to points north, as well as ringing in needed supplies for the residents. The railroad also brought tourists from Tallahassee to stay at the Lanark Springs Hotel, a luxurious resort hotel. A disastrous hurricane hit the town head on at the turn of the century and it was at this time that the downtown area was moved to its present location. The town was rebuilt, and many of today's larger buildings were built during the early part of the 1900's.
During this boom time for Carrabelle, lumber and turpentine were king. During a short period, Greek sailors came and began a flourishing sponge industry. Between World War I and World War II, Carrabelle went into a severe economic slump. Fishing became the principal industry and along with the entire country, Carrabelle slipped into the depression. During the Prohibition much business was done by barter and there was a brief period in which smugglers from the Caribbean unloaded their contraband near Alligator Point and hid in the nearby woods. In 1942, with the entry of the United States into WW II, Camp Gordon Johnston was built and thousands of men were trained at the camp. For many it was the last stopover for those going to the Pacific or European theaters. Carrabelle was also an important port for shipping oil. The oil was shipped from Texas, through the Intercoastal Waterway to Carrabelle and then on to Jacksonville through a pipeline, where it was loaded on ships for delivery to Europe. The pipleline began at what is known as Three Rivers.
Quelle:
Sizilien Ferienwohnung Terrasini Weinheim Rezepte Rundreisen Sizilien Photos Sicilia Casa Vacanze Terrasini Accommodation in Sicily american Campgrounds Rv Resorts Reisefuehrer sicilian travel tips 4/10/2008
wie was wo in Amerika, Amerikareise 2007/05, Campground, Carrabelle, Carrabelle Palms RV Park, Florida, Golf von Mexico, im Wohnmobil reisen, reisen, Rundreisen, RV, RV Resort, Straende



nicht unbedingt ein belebter Ort aber sehr beliebtes Ziel zum fischen.
Der Campingplatz Old Pavillon RV Park war angenehm, sauber und guenstig.




The Old Pavilion RV park and Campground is located on Taylor County's Fabulous Gulf Coast overlooking the beautiful waters of theGulf of Mexico. We have the finest fishing, scalloping, and hunting in the state. This area is noted for it's spectacular sunsets birds and wildlive and peaceful atmosphere.

Amerika im Wohnmobil entdecken
Sizilien Ferienwohnung Terrasini Weinheim Rezepte Rundreisen Sizilien Photos Sicilia Casa Vacanze Terrasini Accommodation in Sicily american Campgrounds Rv Resorts Reisefuehrer sicilian travel tips 4/09/2008
wie was wo in Amerika, Amerikareise 2007/05, Campground, Florida, im Wohnmobil reisen, Keaton Beach, reisen, Rundreisen, RV Resort, Straende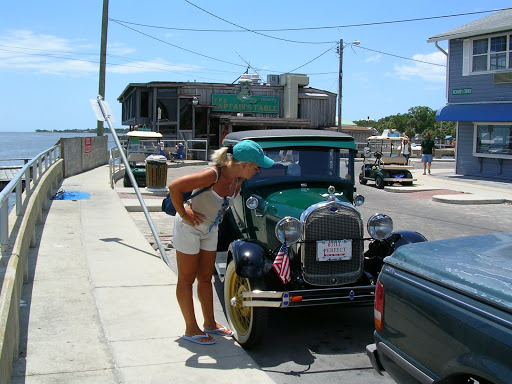 weitab von irgendwo, Cedar Key, ein ruhiges Fleckchen Erde, ein verschlafenes Nest, aber schoen. Im Sunset Isle RV Park haben wir fuer den Memorial Day noch Platz gefunden, man muss ziemlich lange vorbuchen wenn man waerend der Feiertage mit seinem Camper an belebteren Orten einen Platz bekommen moechte. Wir wussten das nicht und mussten deshalb so weit entfernt von unserer Route nach Platz suchen.
Ullaegino mit dem Camper unterwegs in den USA

As you leave the Florida mainland, rich Gulf waters reflecting blue skies beckon you as birds float like petals over the marsh vista. Welcome to our island, a place where time stands still and allows you to enjoy the unique qualities of our coastal environment. Cedar Key is a quiet island community nestled among many tiny keys on the Gulf Coast of Florida. Long admired for its natural beauty and abundant supply of seafood, it is a tranquil village, rich with the almost forgotten history of old Florida.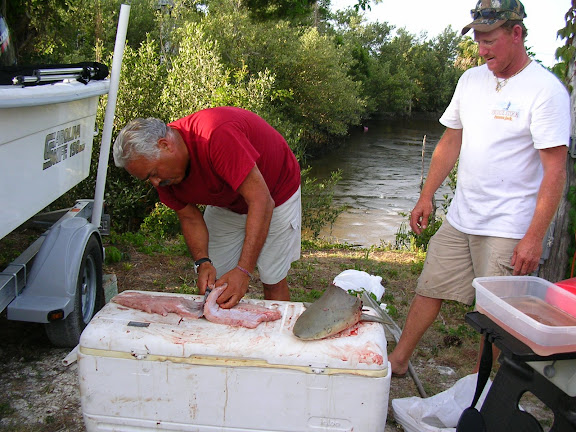 hier haben wir einen Haifisch filletiert
Sizilien Ferienwohnung Terrasini Weinheim Rezepte Rundreisen Sizilien Photos Sicilia Casa Vacanze Terrasini Accommodation in Sicily american Campgrounds Rv Resorts Reisefuehrer sicilian travel tips 4/08/2008
wie was wo in Amerika, Amerikareise 2007/05, Campground, Cedar Key, Florida, im Wohnmobil reisen, reisen, Rundreisen, RV Resort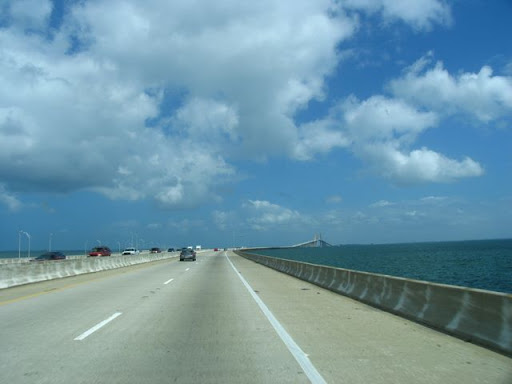 von Palmetto ueber die Sunshine Skyway Bridge ~~

The Sunshine Skyway Bridge, spanning Florida's Tampa Bay, is the world's longest bridge with a cable-stayed main span, with a length of 29,040 feet (exactly 5.5 miles or approximately 8.85 km).[4] It is part of I-275 (SR 93) and US 19 (SR 55), connecting St. Petersburg in Pinellas County and Terra Ceia in Manatee County, Florida, passing through Hillsborough County waters. Construction of the current bridge began in 1982, and the completed bridge was dedicated on February 7, 1987. The new bridge cost $244 million to build, and was opened to traffic on April 20, 1987.
It is constructed of steel and concrete. Twenty-one steel cables clad in nine-inch steel tubes along the center line of the bridge support the structure. It was designed by the Figg & Muller Engineering Group, and built by the American Bridge Company.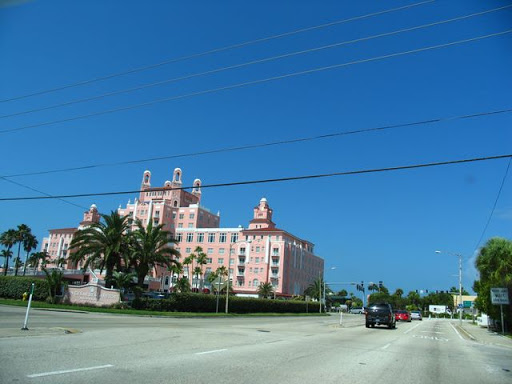 an St. Petersburg vorbei ~~

St. Pete/Clearwater is where you want to be! Close to everything, yet miles away. A beautiful peninsula located on Florida's West coast, the area is bordered by the Gulf of Mexico to the west and by Tampa Bay to the east. Home to America's Award Winning Beaches. Caladesi Beach, America's #2 beach in 2006 and 2007. Also home to Fort De Soto Park, America's #1 beach in 2005 and 2008, we offer 35 miles of white-sand beaches on some eight major barrier islands. We're within minutes of many popular Florida attractions: just 30 minutes to Busch Gardens in Tampa and 90 minutes to Walt Disney World Resort, Sea World and Universal Studios Escape in Orlando.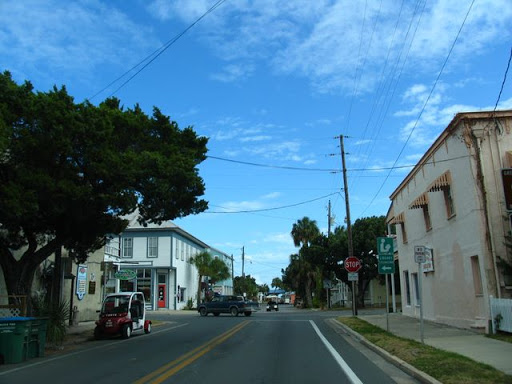 nach Cedar Key

Ullaegino unterwegs in Amerika
Sizilien Ferienwohnung Terrasini Weinheim Rezepte Rundreisen Sizilien Photos Sicilia Casa Vacanze Terrasini Accommodation in Sicily american Campgrounds Rv Resorts Reisefuehrer sicilian travel tips 4/07/2008
wie was wo in Amerika, Amerikareise 2007/05, Cedar Key, Florida, Highways, im Wohnmobil reisen, reisen, Rundreisen, St.Petersburg, Sunshine Skyway Bridge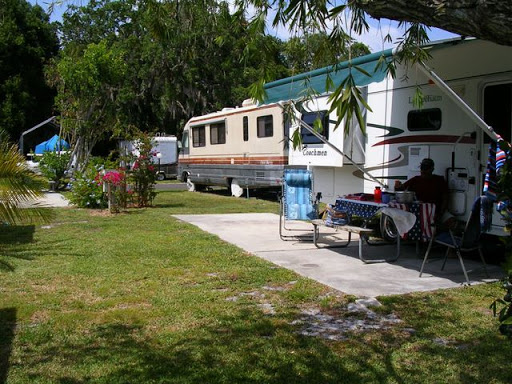 .. ein wirklich schoen gelegener Campingplatz, mit allen Annehmlichkeiten, sehr sauber und geplegt, schoener Swimmingpool.

Gegenueber von dem Campground war ein sehr bekanntes Restaurant, wo wir dann endlich Aligator probieren konnten. Es hat wie Haehnchenfleisch geschmeckt.
Ulla und Gino im Wohnmobil unterwegs in Amerika
If you like a small-town feeling and friendly, happy people, then Palmetto is the place for you. Year round we enjoy living in a pleasant coastal community with easy access to interstate highway I-75, Tampa, St. Petersburg/Clearwater and Sarasota-Bradenton international airports and two sea ports. Port Manatee, adjacent to Palmetto on the north, is a growing gateway to the markets of Florida and the eastern United States for products from Central and South America and the Caribbean. Not only do we try to retain a family-friendly atmosphere, but our city government is sensitive to the needs of the business community as well, and we strive to create a business-friendly environment. Palmetto is a beautiful city with a rich history. Palmetto Historical Park seeks to preserve that history for future generations. This lovely park in downtown Palmetto is the site of Palmetto's first Post Office, a classic Carnegie Library, the Manatee County Agricultural Hall of Fame and a wedding chapel. Several public parks with athletic and picnicking facilities are available. Palmetto is just a few miles away from the beautiful Gulf of Mexico and Manatee County's inviting public beaches. It goes without saying that Palmetto anglers find happy fishing grounds in the Manatee River, the Gulf of Mexico and the numerous bays in the area. Traditional festivals and events include a 4th of July celebration, the Manatee County Fair, the De Soto Children's Parade, an annual parade in honor of Dr. Martin Luther King, Jr., the Kid's Catch and Release Fishing Tournament and a Multi-Cultural Festival. Our thriving, growing community with a casual and relaxed atmosphere is a great place for both businesses and families.
Sizilien Ferienwohnung Terrasini Weinheim Rezepte Rundreisen Sizilien Photos Sicilia Casa Vacanze Terrasini Accommodation in Sicily american Campgrounds Rv Resorts Reisefuehrer sicilian travel tips 4/07/2008
wie was wo in Amerika, Amerikareise 2007/05, Campground, Fishermans Cove RV Park, Florida, im Wohnmobil reisen, Palmetto, reisen, RV Resort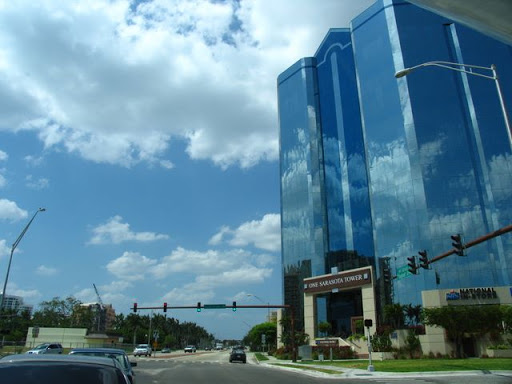 vorbei an Sarasota
more pictures >>>
Ulla und Gino on american dreamroads >>>
Sarasota ist eine Stadt und der County Seat des Sarasota Countys im US-Bundesstaat Florida.
Das Ringling Museum of Art ist vermutlich die größte Attraktion in Sarasota und repräsentiert das Staatsmuseum für Kunst von Florida. Daneben gehört das Mote Marine, ein Aquarium mit angeschlossener Forschungsinstitution, zu den bedeutendsten Attraktionen in Sarasota. Der internationale Flughafen Sarasota-Bradenton bedient auch die 30 Kilometer nördlich liegende Nachbarstadt Bradenton.
Weltweite Aufmerksamkeit erhielt der Ort am 11. September 2001, da sich zum Zeitpunkt der Terroranschläge auf das New Yorker World Trade Center der amerikanische Präsident George W. Bush in der Emma-E.-Booker-Grundschule für einen Pressetermin aufhielt.Quelle Wikipedia


About Sarasota
In the Sarasota area, you can enjoy the breathtaking sunsets, educational museums, operas, ballets, plays, golf tournaments, and boat races. You can join in tennis, lawn bowling, water skiing, shell collecting, bird watching, growing exotic tropical plants, university classes, golf, or boating.
Quality service is available from knowledgeable physicians, bankers, lawyers, investment brokers, lenders and insurance agents, who can help answer your questions about living and conducting business in Florida.
Sarasota, together with its neighbors to the north and south, Manatee County and Charlotte County, form the 7th-largest market in Florida. It is also Florida's third-fastest growing major market. With over 600,000 people, the Sarasota/Manatee/Charlotte area is one of the largest, most affluent markets in Florida. In the last 5 years, it has grown 4 times faster than the national average. The per capita retail sales are almost 20% above the national average. It has a strong base of retirement age people, about a third of the population, but the fastest-growing segment of the market is middle-aged adults and their children. It has approximately 1/4 the population of the Tampa/St. Petersburg area.
The beauty of Sarasota will get your attention on your first visit. If you see Sarasota first from the window of an airplane, the colors of the Gulf of Mexico and Sarasota Bay, contrasting with the brilliant white sand of Longboat, Lido, and Siesta beaches, will make you anxious to see more. A rainbow of colors comes from the tall condominiums shining in the sun, the warm tile on the roof and patio of the mansion built by circus magnate John Ringling, the various green hues from the lush jungle-like vegetation, the flowers that are blooming any month of the year, and the lavender seashell-design Van Wezel Performing Arts Hall.
Sarasota boasts some of the oldest and newest homes in the area. Some homes were built over 50 years ago as winter vacation cottages. Others are new gated bayfront estates with manicured grounds, marble foyers, soaring ceilings, the newest fixtures and technological advances, and spectacular views.
Residents from any neighborhood can enjoy the wide range of activities available throughout Sarasota. Whether your taste in art leans more toward circus posters, Rubens and Poussin, seashell creations, sand sculptures, or the new art of the Ringling School of Art students, it's here. Your hunger for theatre can be filled by the Foreign Film Festival, the Asolo Theatre Company, Florida Studio Theatre, Island Players, Lemon Bay Playhouse, or Theatre Works, for a start.
If you want to add music to your diet, you could begin with the Florida West Coast Symphony, Key Chorale, Gloria Musicae, the Jazz Club of Sarasota, Sarasota Ballet of Florida, Sarasota Blues Society, Sarasota Opera Association, or the Sarasota Concert Band.
You also have a large number of choices when you look for educational opportunities, spectator or participant sports, boating and other water activities, restaurant styles, museums, state parks, or fresh citrus. Traveling to areas around Sarasota is easy, with quick access to Interstate-75. Tampa and the Tampa Bay Buccaneers, Florida Aquarium, Dali Museum and other attractions, is only an hour north of Sarasota. Disney World's many attractions, near Orlando, are only 125 miles away, about a 2.5 hour drive.
Sizilien Ferienwohnung Terrasini Weinheim Rezepte Rundreisen Sizilien Photos Sicilia Casa Vacanze Terrasini Accommodation in Sicily american Campgrounds Rv Resorts Reisefuehrer sicilian travel tips 4/01/2008
wie was wo in Amerika, Amerikareise 2007/05, Florida, im Wohnmobil reisen, reisen, Rundreisen, Sarasota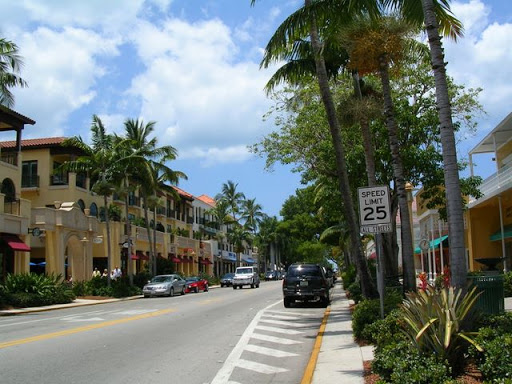 Naples ist eine Stadt im Collier County im US-Bundesstaat Florida, Vereinigte Staaten, mit 21.500 Einwohnern (Stand: 2004). Die geographischen Koordinaten sind: 26,14° Nord, 81,79° West. Das Stadtgebiet hat eine Größe von 37,3 km².

Der Name der Stadt "Naples" ist die englische Bezeichnung für "Neapel". Dies lässt darauf schließen, dass die Stadtgründer italienische Auswanderer waren. Ein Beweis hierfür lässt sich jedoch nicht finden. Der Einwohneranteil italienischer Abstammung ist 7,3 %, der deutscher Abstammung 20,0 %. Eine große Anzahl von deutschen Touristen sind in Naples vertreten. Viele haben durch Freunde oder Verwandte erfahren, wie schön Naples sein kann. Nicht nur die historischen Orte, sondern auch der Strand sind eine wahre Pracht. Dort lässt sich nicht nur entspannen, es gibt auch viele Bars, wo man am Abend mal etwas trinken gehen kann. Es gibt aber auch viele Unternehmungsmöglichkeiten, wie z.B.: Jetski fahren oder Pontonboote mieten.
Amerika mit einem Wohnmobil erleben

Sizilien Ferienwohnung Terrasini Weinheim Rezepte Rundreisen Sizilien Photos Sicilia Casa Vacanze Terrasini Accommodation in Sicily american Campgrounds Rv Resorts Reisefuehrer sicilian travel tips 3/28/2008
wie was wo in Amerika, Amerikareise 2007/05, Florida, im Wohnmobil reisen, Naples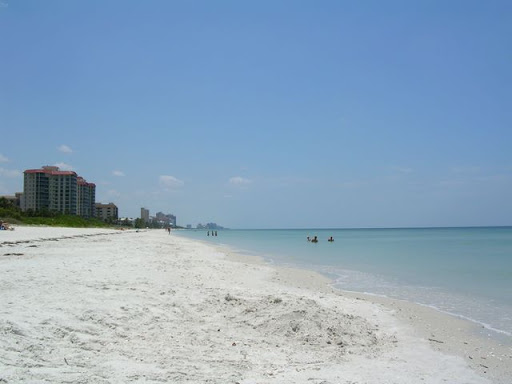 fuer uns Strandliebende genau das richtige Ulla und Gino unterwegs in Amerika
Sizilien Ferienwohnung Terrasini Weinheim Rezepte Rundreisen Sizilien Photos Sicilia Casa Vacanze Terrasini Accommodation in Sicily american Campgrounds Rv Resorts Reisefuehrer sicilian travel tips 3/25/2008
wie was wo in Amerika, Amerikareise 2007/05, Florida, Naples, Straende